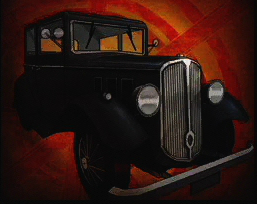 Type: Civilian
Garagekeeper description: I'm fairly sure my grandmother drives this car to church on Sunday mornings. Nuff said. 
The Renoir Cruiser is a sedan based on a Renault Primaquatre with it's look manufactured from 1931 to 1933.
Despite the description, this car is quite fast and makes a decent getaway vehicle, although it is lacking in maneuverability.
Ad blocker interference detected!
Wikia is a free-to-use site that makes money from advertising. We have a modified experience for viewers using ad blockers

Wikia is not accessible if you've made further modifications. Remove the custom ad blocker rule(s) and the page will load as expected.