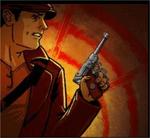 Description

A very powerful Automatic Pistol owned by Kurt Dierker.
Damage-9/10
Rate of Fire-9/10
Location
Unlocked by completing the Angel of Death mission, the final mission in the game's main story line. It can be purchased for 1 contraband.
Trivia
A special pistol built for Kurt Dierker with Mods including a shortened barrel, a knuckle duster finger grip, automatic fire and handle plates. It is a very good and effective weapon. It can be used after the end of the game by Sean.
This very unique pistol is also a good option to kill terror squad units, but it also runs out of ammo very fast.
In the photo, you can observe the grip looks like a knuckle duster.
Ad blocker interference detected!
Wikia is a free-to-use site that makes money from advertising. We have a modified experience for viewers using ad blockers

Wikia is not accessible if you've made further modifications. Remove the custom ad blocker rule(s) and the page will load as expected.