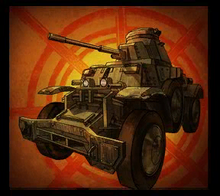 The AR-33 is one of the most common tanks in use by the Nazi's. One can be found on many of the street corners along side Nazi installations, roadblocks, or other operations. They will stay in place until provoked, but when garnering a high Alarm (level 4 or 5), the Nazi's may send these after the player. While they are quite common to see, one can not access most of these AR-33 tanks, the only one that can be access is parked in a unique position.
The AR-33 is the Nazi's most utilized piece of armor along side the Half-Track. The AR-33 is surprisingly fast and mobile, it is one of the only tanks that drives and controls with the traditional four wheels. This makes it ideal for dodging other tanks and making quick escapes. Between it's mobility and armor, it can be extremely useful, but to also include it's fairly powerful turret, it is a force to be reckoned with. Its largest weakness is it's lack of damage resistance compared to other tanks.
Ad blocker interference detected!
Wikia is a free-to-use site that makes money from advertising. We have a modified experience for viewers using ad blockers

Wikia is not accessible if you've made further modifications. Remove the custom ad blocker rule(s) and the page will load as expected.